Scotty Cameron fans will be thrilled to hear about the introduction of the brand's Futura Putters, which are set to be available in golf shops from the 17th of March, with the line offering seven high performance mallet-style models that are sure to provide golfers of all abilities with stable, forgiving putter setups.
From rounded mid-mallets to high-tech, high-MOI larger mallets, the 2017 Futura family melds the best design characteristics of the previous generation GOLO and Futura X lines with Scotty Cameron's continued innovation in multi-material putter constructions. The result is a cohesive lineup of tour-proven shapes and configurations – Futura 5CB, 5MB, 5W and 5S; Futura 6M and 6M Dual Balance; and Futura 7M – with enhanced stability and forgiveness, improved alignment features, and responsive feel and feedback.
Scotty Cameron, Master Craftsman said: "This new Futura line blends my ideas about high-performance putter designs with my longstanding ideals that high-tech should always be high-quality. What we've pioneered with our multi-material technology allows me to design properly-weighted larger putter heads for more stable setups to give mallet players more confidence over putts.
"Fans of the brand may remember the original Futura putter released over a dozen years ago, which was viewed as an experimental design that then went on to be trusted to several titles. It's this focus on making putters for the best players in the game that drives me to continue to innovate, experiment and push the boundaries of what we offer to all dedicated golfers.
"Similar to the world of motorsport, what we prove on Sundays on the worldwide professional golf tours goes into every putter we bring to market. The Futura name validates the decades of design performance my team and I bring to the high-tech putter market and celebrates that early innovation standing the test of time."
Futura 5CB: Classic meets modern in this rounded "cavity back" mid-mallet with multi-material face-sole technology and a black aircraft aluminium flange plate.
Futura 5MB: Classic, elegant "muscle-back" rounded mid-mallet with wrap-around face-sole technology and completely solid stainless steel flange.
Futura 5W: This update to the popular Futura X5 adds multi-material face-sole technology and enhanced dual purpose alignment features that frame the ball and aligns the sweet spot with white flange lines placed parallel to each wing.
Futura 5S: In response to Tour feedback, Scotty has created the straightshafted Futura 5S, which is similar in shape to the Futura 7M but in the more compact "5" size. A dual-purpose alignment design frames the ball and aligns to the sweet spot.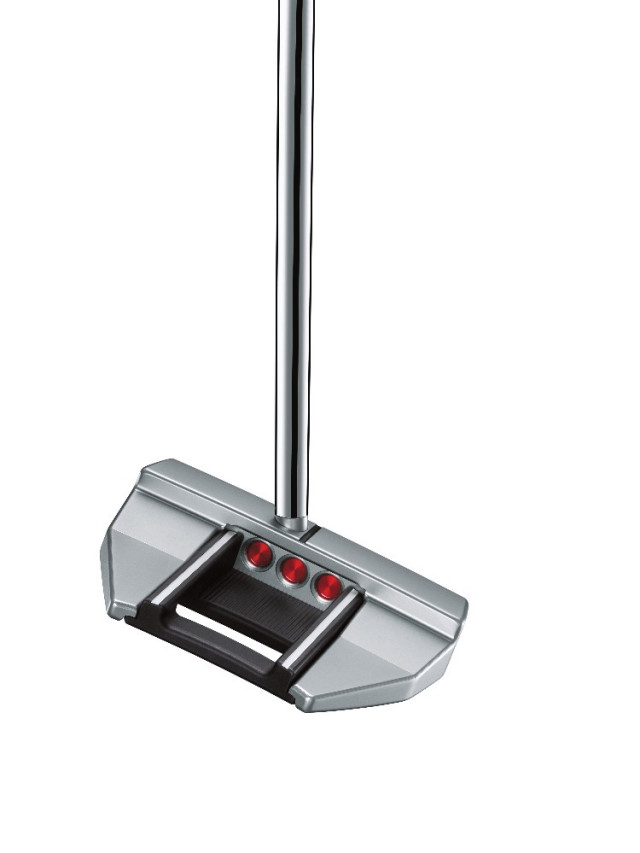 Futura 6M: Combining some of the best MOI-enhancing design cues of the Futura X and the Futura X7, the Futura 6M offers the ultimate in forgiveness and resistance to twisting on off-centre strikes.
Futura 6M DB: The ultimate in high MOI, forgiveness and stability, the Futura 6M Dual Balance adds an extra 50 grams of weight in the head and at the butt end of the shaft to slow and stabilize the putting stroke.
Futura 7M: An updated take on the multi-material Futura X7M, the 7M features refined shaping of the back wings and stainless steel "bar back", which moves weight back behind the putter face for added forgiveness and dual-purpose alignment.
Left-Handed Options: Will be available in the Futura 5CB and Futura 6M models.
Each new Futura putter features advanced stability weighting with two removable, customisable stainless steel sole weights, stepless steel shafts and supple Black Matador Mid-size grips with red and gold accents (Futura 6M DB employs a 15-inch Dual Balance grip) developed to offer the comfort of a larger grip while maintaining responsiveness and feel.
Scotty gave the Futura line's raw stainless steel surfaces a Silver Mist finish with a unique bead blast for a radiant yet glare-resistant appearance. All aluminium sole plates have been anodised in black. Additionally, the Tour-inspired cosmetics display the familiar three bright translucent red dots in the back cavity with engraved typography befitting this modern, high-performance line.
PRICE AND AVAILABILITY:
New Futura putters will be available from March 17, 2017 worldwide through Titleist authorised golf shops.
• NEW Futura putters: £335
• NEW Futura 6M Dual Balance putter: £355
Scotty Cameron SELECT Line Extended
Elsewhere, Scotty Cameron has added a new teardrop-shaped, heel-shafted mid-mallet to his iconic Select line of putters – the Select Newport 3.
Trusted by many of the world's best players, Select putters blend precision milled Scotty Cameron craftsmanship with advanced multi-material constructions and innovative face inlay technology to deliver tour-validated performance with unmatched feel and feedback.
Available in golf shops from March 17, the new Select Newport 3 extends the popular line with a model designed for players seeking a smaller round mallet with additional toe flow and forgiveness.
Scotty Cameron, Master Craftsman said: "Fans of our classic, heel-shafted mallets like the Del Mar 3.5 and the GOLO 3 will love the melt-into-the-ground, flowing lines of the Newport 3. When you look at the entire Select family, the Newport 3 is the perfect, curvy small mallet that just fits in conceptually between the Newport 2 Notchback and the mallets.
"We've extended the methodology of our proven multi-material technology to include the aircraft grade aluminium inlay, which allows me to design more of the weight into the sculpted back flange, as well as get the sweet feel the inlay produces. The result is an extension to the Select family that pulls together the entire line."
KEY FEATURES:
The heel-shafted mid-mallet, based on the classic Newport head shape, is designed with a flow neck (with ¾" offset) for players that need maximum toe flow in their stroke.
Multi-material technology – featuring a precision milled, lightweight 6061 aircraft grade aluminium face inlay fused to the precision-milled 303 stainless steel body – distributes weight for higher MOI performance. This multi-material design combines with Scotty's tour-proven heel-and-toe sole weighting technology to increase stability and forgiveness throughout the stroke.
A built-in vibration dampening system connects the milled aluminium face inlay with the stainless steel body, producing a responsive feel and feedback that Scotty describes as "soft, but solid."
Like every putter in the Select line, the Newport 3 features advanced stability weighting with two removable, customisable stainless steel heel-toe weights, a stepless steel shaft engineered for optimal flex and performance, and a supple Red Matador Mid-size grip developed to offer the comfort of a larger grip while maintaining responsiveness and feel.
Select putters come with a raw stainless steel finish called Silver Mist, which involves a unique glass bead blast for a radiant, yet glare resistant, appearance. Additionally, the Tour-inspired graphics blend the familiar three bright red translucent "cherry bombs" with engraved typography that represents this modern, high-tech line.
For further information visit: www.scottycameron.com or follow Scotty Cameron on YouTube: www.youtube.com/ScottyCameron.
PRICE AND AVAILABILITY:
Select Newport 3 putters will be available from March 17, 2017
YOU CAN ORDER YOUR WITH A 10% OFF ON YOUR FIRST ORDER FROM www.wesellgolfgear.com